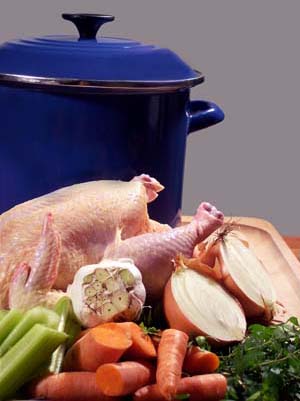 The house right now smells like warm garlicky goodness!
I'm making homemade stock from the carcasses of the two chickens I
brined and roasted
last week. I used a whole head of garlic, an onion, and a double handful of fresh thyme sprigs. My carcasses included lots of skin, bits of chicken, all four wings, and as much of the fatty goodness as I could save.
Tonight we will enjoy a delicious soup with chicken, noodles, zucchini, onion, celery, and carrots, along with warm buttered rolls. I'm planning to make it heavy on the garlic and spicyness, all for my poor sick hubby.
Hope you feel better soon, honey!